Shopping Cart
Your Cart is Empty
There was an error with PayPal
Click here to try again
Thank you for your business!
You should be receiving an order confirmation from Paypal shortly.
Exit Shopping Cart
Counseling for individuals, couples and families in Central FL, since 2002.
| | |
| --- | --- |
| Posted on September 4, 2016 at 3:05 PM | |
It was placed on my heart to put together a curriculum for teen girls, so that teen girls would have a safe, judgment-free zone to go each week to discuss the many challenges and pressures that come with being female. Us older ladies know a thing or two about the unique challenges that come with being a woman, but what about the challenges of being an adolescent female in this day and age? I have counseled numerous teen girls and they each talk about one common challenge: "PRESSURE." Pressure to fit in, to be popular, to be thin, to have skinny thighs, to have a clear complexion, to get good grades, to be wanted and desired by the opposite sex, to please their parents, or to figure out what exactly they want to do with the rest of their lives. Are you feeling pressured just reading about all the pressure? Before I get to the encouraging and exciting news about our upcoming teen girls group at Reveille Counseling Ministry, I thought I would share some staggering statistics on today's teen girls.

Brace yourselves, it's disheartening... The statistics show that:

- 7 in 10 girls believe they are not good enough or do not measure up in some way, including their looks, performance in school and relationships with family and friends.
-81% of 10-year-old girls in the U.S. are afraid of being fat.
-6 out of 10 girls opt out of important activities because they're worried about the way they look. (And these are HEALTHY, productive activities such as: social events, attending school, joining extracurricular activities)
 -92% of teen girls would like to change something about the way they look, with body weight ranking the highest.
 -74% of girls say they are under pressure to please everyone. (Girls Inc, The Supergirl Dilemma)
-98% of girls feel there is an immense pressure from external sources to look a certain way. (National Report on Self Esteem)
 -1 in 4 girls today fall into a clinical diagnosis – depression, eating disorders, cutting, and other mental/emotional disorders. On top of these, many more report being constantly anxious, sleep deprived, and under significant pressure. (The Triple Bind, Steven Hinshaw)
That last statitstic is so important to read again. One in four girls fall into a clinicial diagnosis of depression, cutting, eating disorders, anxiety, etc. When you look around and think that one out of four girls are likely secretly battling one of these issues, it can serve as a call to action!

THIS is why I am starting a group for teen girls. It's a space for young women to glean some wisdom from someone who is a little older, wiser, but who has also lived in the same mean-girl, comparison-driven world as them. It's a group for young women to find (or redirect) where they place their self-worth, to build their confidence, to be content and fulfilled with who God created them to be, to learn about healthy dating relationships, so that one day they can be prepared for a healthy marital relationship in their future.

#LoveYourSELFie is a confidential group for girls ages 14-19 starting October 13th, and will last for 4 weeks. It's going to be life-giving, wisdom filled, validating, and encouraging. My hope is that your young daughter, niece, or friend would grow into wise, confident, discerning, young woman. This group will be a tool to help them with just that.

Christina Milazzo, MA. RMHCI

Registration needed to reserve your seat.
386-243-7356 or [email protected]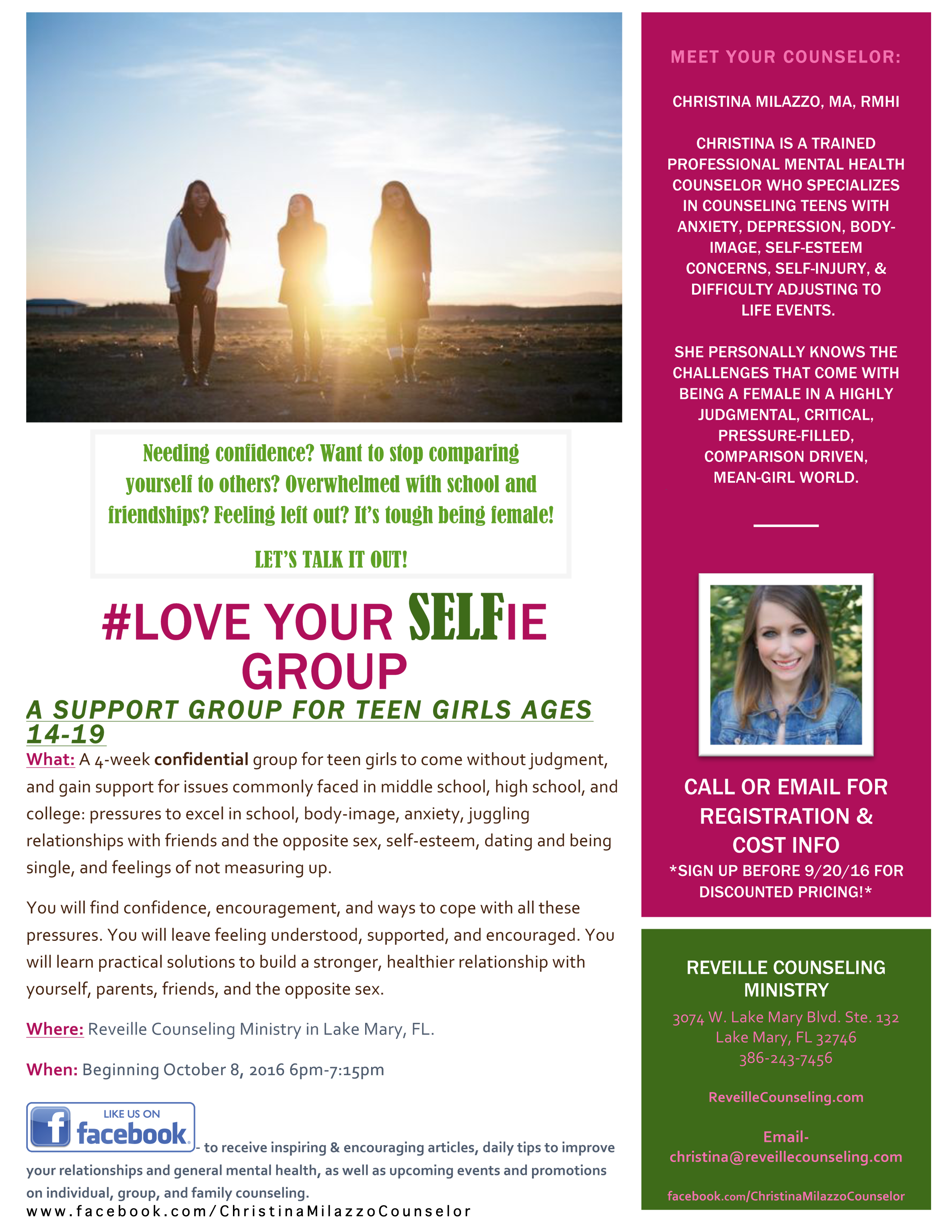 Categories: None
/